⬅️ Be smart and Get all this Parts with Free Shiping + 10 euros coupon  by trying  Amazon Prime .
Water Cooling parts:
V-Tubler PETG Tube 5/8" (16mm) OD 1000mm pack of 4

2
45,80€
Thermaltake Pacific G1/4 45 & 90 Degree Adapter – Chrome

2
33,80€
Pacific G1/4 Stop Plug w/ O-Ring – Chrome/Black

4
15,60€
Pacific G1/4 90 Degree Adapter – Chrome

8
103,20€
Pacific G1/4 Female to Male 10mm Extender – Chrome

3
17,70€
C1000 Pure Clear Coolant Transparent of Thermaltake

1
19,90€
Indicateur de débit, Pacific Flow Indicator One de Thermaltake

1
32,90€
Pacific G1/4 PETG Tube 90-Degree Dual Compression 16mm OD – Chrome

2
33,80€
Pacific G1/4 PETG Tube 45-Degree Dual Compression 16mm OD – Chrome

2
33,80€
Pacific G1/4 PETG Tube 5/8 inch (16mm) OD Adapter – Chrome

4
39,60€
Pacific C-PRO G1/4 PETG Tube 16mm OD Compression – Chrome

8
103,20€
Pacific Drain Valve de Thermaltake – BLACK

1
35,90€
Pacific W7 Plus CPU Water Block

1
140,90€
Subtotal:
656,10€
A Short Video About the PC
The AMD Ryzen 7 5800X processor is optimized for video games: 8 Cores, 16 Threads and 36 MB GameCache. Not to mention the native and boost frequencies that reach new heights to allow you to enjoy your favorite games in the best conditions. Pair it with a high performance graphics card and you can play all games smoothly. When you get the most advanced processor architecture for gamers and content creators, the possibilities are endless. Whether you're playing the latest games, designing the next skyscraper, or using data, you need a powerful processor that can handle all of this and more. There's no denying that the AMD Ryzen 5000 series desktop processors.
Ryzen Master is the tool you need to effectively manage your processor performance. It is the simple and powerful overclocking utility for AMD Ryzen processors. Every AMD Ryzen processor is unbridled at the factory multiplier level so you can customize the performance to your liking. AMD provides the AMD Ryzen Master utility to access this powerful benefit.
More Information
AMD Ryzen 7 5800X
Graphics GeForce RTX 3070
The 2nd generation NVIDIA RTX graphics cards, based on the Ampere architecture, promise gamers of all stripes the ultimate gaming experience and performance never before achieved in the most realistic and immersive PC games. Improving the performance of RT and Tensor cores as well as flow multiprocessors is at the heart of this new high-tech architecture, the sole objective of which is to offer an ultimate and exceptional gaming experience. NVIDIA GeForce RTX 3000 graphics cards are quite simply the most powerful cards NVIDIA has ever designed.
The Gigabyte GeForce RTX 3070 VISION OC 8G graphics card features 8 GB of next-generation GDDR6 video memory. This factory overclocked model boasts high operating frequencies and an improved cooling system for long-term reliability and performance.
More Information
Gigabyte GeForce RTX 3070 VISION OC 8G
G.Skill Trident Z Royal 16 GB 3600MHz
Here is the latest addition to the Trident Z range from G. Skill, the Trident Z Royal. Designed to be the jewels in the crown, these barrettes feature a design perfectly thought out to refract light ideally. With its crystal-clear effect RGB LED strip, you can also display an assertive style. They offer ultra-efficient solutions for very high-end configurations. These kits will optimize next-generation platforms and are an ideal solution for overclocking with incredible frequencies between 3000 MHz and 4600 MHz.
TURN YOUR COMPUTER INTO A REAL JEWEL
The G.SKILL Trident Z Royal memory modules have an extraordinary design but also power and performance! They keep the aggressive style of the Trident Z while including bringing a new play of light while dispersing!
More Information
G.Skill Trident Z Royal Silver 16GB 3600MHz
Asus ROG Strix X570-F Gaming
Ready to accommodate 3rd generation AMD Ryzen processors and compatible with 2nd generation ones, the ASUS ROG STRIX X570-F GAMING motherboard is ideal for designing a gaming PC with the most advanced technologies. With support for DDR4 RAM up to 128 GB, PCI-Express 4.0 graphics cards, M.2 PCIe 4.0 4x drives, ASUS ROG STRIX X570-F GAMING motherboard benefits thanks to its AMD chipset X570, the very best. The excellent performances offered by the ROG STRIX X570-F GAMING are magnified by the presence of an RGB backlighting on the motherboard and the presence of 4 RGB headers, one of which is addressable. The possibilities offered by the Asus software allow you to customize your gaming setup. The two-second generation addressable RGB connectors (with backward compatibility) detect the number of addressable LEDs on the device for individual customization.
ASUS AURA SYNC RGB BACKLIGHT
With the advent of 4th generation PCI-Express, which doubles the bandwidth compared to the previous generation, the chipset requires efficient active cooling to avoid the phenomenon.
ADVANTAGES OF THE ASUS ROG STRIX X570-F GAMING:
AMD AM4 socket for 3rd generation and 5rd generation AMD Ryzen processor
4 DDR4 4400 MHz Dual-Channel (O.C) memory slots
8 ports SATA 6Gb/s + 2 x M.2 PCIe 4.0 4x / SATA 6 Gbit/s
3 PCI-Express 4.0 16x ports with AMD CrossFireX 2way / 3-way Multi-GPU support and NVIDIA SLI
USB 3.1 interne
Aura Sync: superb synchronized effects (4 connectors including 2 addressable available)
5-Way Optimization: overclock your system in one click
More Information
ASUS ROG STRIX X570-F GAMING
Corsair RM750x 80Plus Gold
Brought to you by ASUS ROG, here is a powerful Thor power supply, fully modular, 80PLUS Platinum certified for energy efficiency, built with 100% Japanese capacitors for stability and durability. Its efficient cooling is noise-free (0db) thanks to its dust-proof IP5X fin fans and built-in ROG heat sinks for cooler operation. Equipped with the LiveDash interface with OLED power display, it allows you to monitor it in real time. Original, this power supply features addressable RGB lighting with Aura Sync.
FIRST-CHOICE POWER SUPPLY
Reliable, silent, modular, powerful, efficient, the Corsair RM750x White power supply has it all. Its 80PLUS Gold certification, its 10-year warranty and its carefully selected components ensure exceptional reliability for your configuration.
More Information
Corsair RM750x White 80PLUS Gold

The elegant Thermaltake Core P5 Tempered Glass enclosure is an open model allowing the installation of a fully modular high-end configuration. Its flexible interior space offers great freedom for the installation of components and also offers a great cooling potential, including via watercooling. The enclosure offers up to 6 customizable 3.5 "and 2.5" bays. The Thermaltake Core P5 Tempered Glass allows you to optimize internal space by installing only the components you need, in order to save space. Ideal for assembling a truly personalized configuration! In addition, its large transparent panel offers a magnificent panorama of all your components. Spacious and stylish, the P5 accepts an imposing cooler (up to 180mm) and 320mm graphics cards.
The Thermaltake Core P5 Tempered Glass case has many spaces for fans and allows the installation of a liquid cooling system (watercooling). Whatever your choice of cooling, the P5 bends to all your requirements and will showcase your setup.
Case Type Mid Tower
Dimension (H x W x D) 608 x 333 x 570 mm
Size 12.2 kg
Corsair Force MP600 500GB
Based on the new PCI-Express 4.0 standard and interfaced at x4, the Corsair Force MP600 SSD offers lightning speeds of up to 4950 MB / s in reading and 4250 MB / s in writing (depending on the model). In M.2 format and NVMe compatible, it features 3D TLC NAND memory and an ultra-efficient aluminum heatsink. Ideal for high-end Gaming and Power User PCs, it also benefits from a 5-year manufacturer's warranty. The next-generation PCI-E 4.0 interface operating on 4 channels (PCI-E x4).
The MP600 is equipped with a large area aluminum heat sink, helping to maintain performance even under heavy load. Lower temperatures allow higher performance.
More Information
Corsair Force MP600 500 Gb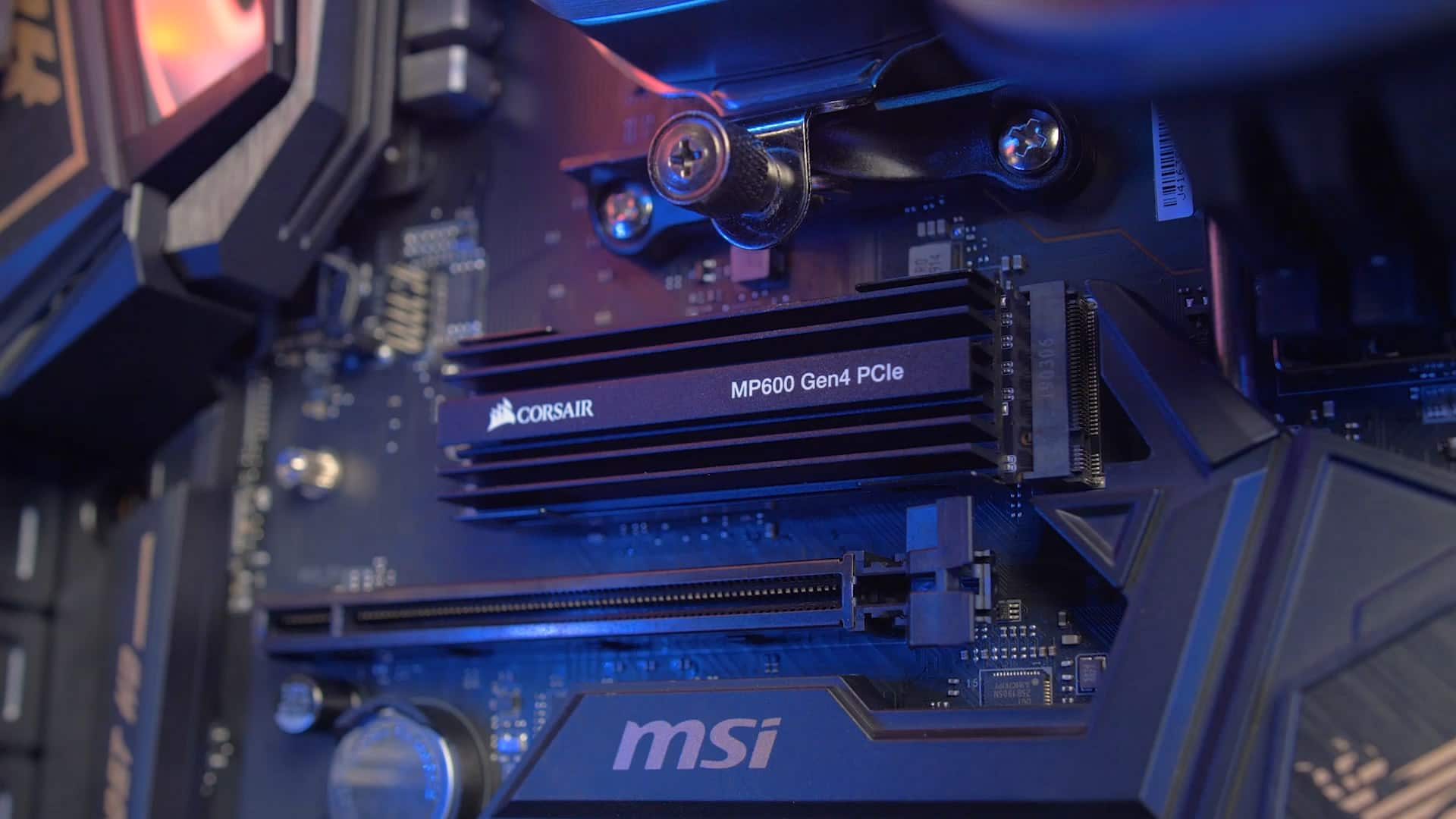 Thermaltake Pacific PR32-D5 Plus
Newly designed mounting brackets provided additional stability while maintaining the 400ml reservoir. The rotating cap design provides easy water loop options and provides 16.8 million lighting colors, which is supported by TT RGB Plus software. The 360 ​​degree rotating cap allows users to adjust the positions of the G 1/4 threaded ports even after they are mounted to the chassis, providing more flexibility during water cooling builds. 12 addressable LEDs shine through the rotating cap allowing users to experience numerous lighting effects and 16.8 million color combinations via TT RGB Plus software. The 267mm high tank has a capacity of 400ml, which can withstand a maximum pressure of 50 PSI. Being the largest Thermaltake tank in the collection, it indeed creates an excellent visual effect.
The powerful pump head can push coolant up to 15 feet high at its maximum speed and deliver a flow rate of 1135 gallons per hour. The 5-level speed control allows users to manually control the pump speed, changing the pump speed according to the computer load.
More Information
Thermaltake Pacific PR32-D5 Plus
Thermaltake Riing 12 RGB White TT Premium Edition
The Thermaltake Riing Quad 12 LED RGB Radiator Fan is a kit of three fans for watercooling that combines three strengths: performance, silence, and design. It has customizable lighting in 16.8 million colors thanks to 54 RGB LEDs distributed over 4 rings, Hydraulic Bearing type operation, and anti-vibration mounts. Thus, the Thermaltake Riing Quad 12 RGB Radiator Fan will allow your processor to always maintain an optimal temperature, thanks to a controlled cooling of the waterblock of your watercooling cricuit. Compression blade technology ensures ultra efficient air evacuation of the air. The Hydraulic Bearing system coupled with the noise reduction mode will allow you to reduce noise pollution at the push of a button.
AN IDEAL FAN FOR YOUR RADIATOR
A control box is supplied with your fans. It will allow you to manage the lighting and the speed of your fans to always offer you the lights and the speed of rotation that YOU desire.
More Information
Thermaltake Riing Quad 12 RGB TT Premium Edition
EK-CoolStream PE 480 (Quad)
EK-CoolStream PE is a high performance computer water cooling radiator that combines EK's unique CSQ design with the latest radiator motor. Designed for EK-Vardar 120mm high static pressure fans, these radiators are optimized for maximum heat dissipation over the entire operating range of the fan, providing outstanding performance at both low and high airflow. EK's assured level of quality, optimum price-performance ratio and unique minimalist design make these EK-CoolStream PE series radiators a perfect choice for any water-cooled computer system.
More Information
EK-CoolStream PE 480 (Quad)
Thermaltake Pacific W7 Plus
The Pacific W7 Plus is a CPU water block with copper base and 0.15mm internal fins; It has corrosion-resistant nickel plating and a built-in temperature sensor to monitor the temperature. Compatible with TT RGB Plus software, it offers 16.8 million colors. The Pacific W7 Plus has a built-in temperature sensor that indicates the temperature of the circulating coolant and transmits the signal to the TT RGB Plus software. This interface allows users to monitor temperature changes and control the lighting of addressable LEDs. Manufactured to the highest quality standards, the Pacific W7 Plus waterblock has a copper base, with mirror finish and anti-corrosion nickel plating, guaranteeing optimal dissipation and exceptional corrosion protection.
More Information
Thermaltake Pacific W7 Plus
Tube V-Tubler PETG 1000mm
Thermaltake introduces V-Tubler PETG solid tube for custom PC water cooling setups. Made from premium PETG, the V-Tubler Rigid Tube allows users to route tubes exactly how they want. Designed with 5/8 "(16mm) OD PETG tube adapter fittings, provides users with better mounting, easier adjustment and ideal flow rate. Choose from: 500mm and 1000mm to make your system a showcase for all to see with the Thermaltake V-Tubler water hose.
More Information
V-Tubler PETG 1000mm