⬅️ Be smart and Get all this Parts with Free Shiping + 10 euros coupon  by trying  Amazon Prime .
The AMD Ryzen 7 5800X processor is optimized for video games. The AMD Ryzen 7 5800X desktop processor features 8 native cores and 16 logical cores for pleasantly smooth multitasking. With its high native frequency and Turbo Core mode that adjusts power as needed, the next-generation AMD Ryzen CPU delivers exceptional performance in all areas: Video games, intensive multitasking, video editing, 3D modeling and more again. The 32MB L3 cache also enables ultra-fast processing of a large number of instructions with reduced latencies.
When you get the most advanced processor architecture for gamers and content creators, the possibilities are endless. Whether you're playing the latest games, designing the next skyscraper, or using data, you need a powerful processor that can handle all of this and more.
More Information
AMD Ryzen 7 5800X
Graphics GeForce RTX 3060
MSI GEFORCE RTX 3060 VENTUS 2X 12G OC
The all-new Ventus series of graphics cards brings a fresh look to the MSI graphics card lineup. With their design, they will fit perfectly into any configuration and their features will allow them to deliver high graphics performance. Compared to the standard fan design, the Ventus graphics card fans have a higher number of blades to improve heat dissipation as they generate more air pressure.
Thanks to the improvements made by the new Ampere architecture, 2nd generation NVIDIA RTX graphics cards perform even better than previous generation graphics cards. PC games look better, feel more immersive, and run smoother than ever before. 2nd generation RT cores deliver up to 2x the performance of previous generation cards. 3rd generation Tensor cores deliver up to 2x the performance and the new stream multiprocessors deliver 2x the FP32 performance!
More Information
https://www.msi.com/Graphics-Card/GeForce-RTX-3060-VENTUS-2X-12G-OC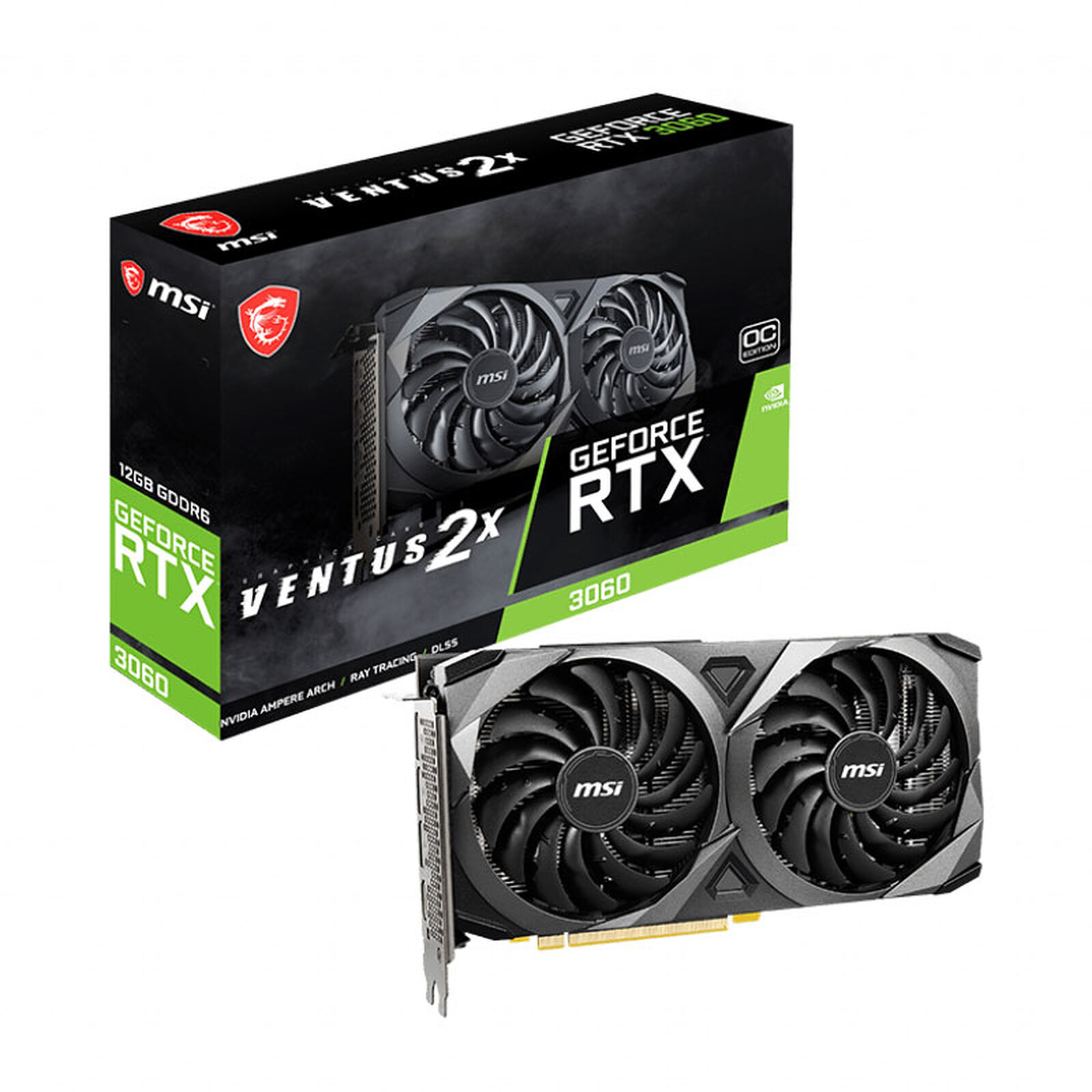 Corsair Vengeance RGB PRO 32GB 3600MHz
Corsair's Vengeance RGB PRO Series high-end PC memories offer the best performance and stability for next-generation platforms with high overclocking potential. They also give you mesmerizing dynamic multizone RGB lighting controlled directly from Corsair iCUE software. Vengeance RGB PRO Series PC memories are optimized for Intel X299 platforms.
ADVANCED RGB DESIGN AND LIGHTING MEMORY
These memories are the latest from the manufacturer Corsair and as such, they embed the best of Corsair technology and the ultimate in RGB lighting. Each module has ten individually controlled RGB LEDs.
More Information
Corsair Vengeance RGB PRO 32GB 3600MHz
Corsair iCue H100i RGB PRO XT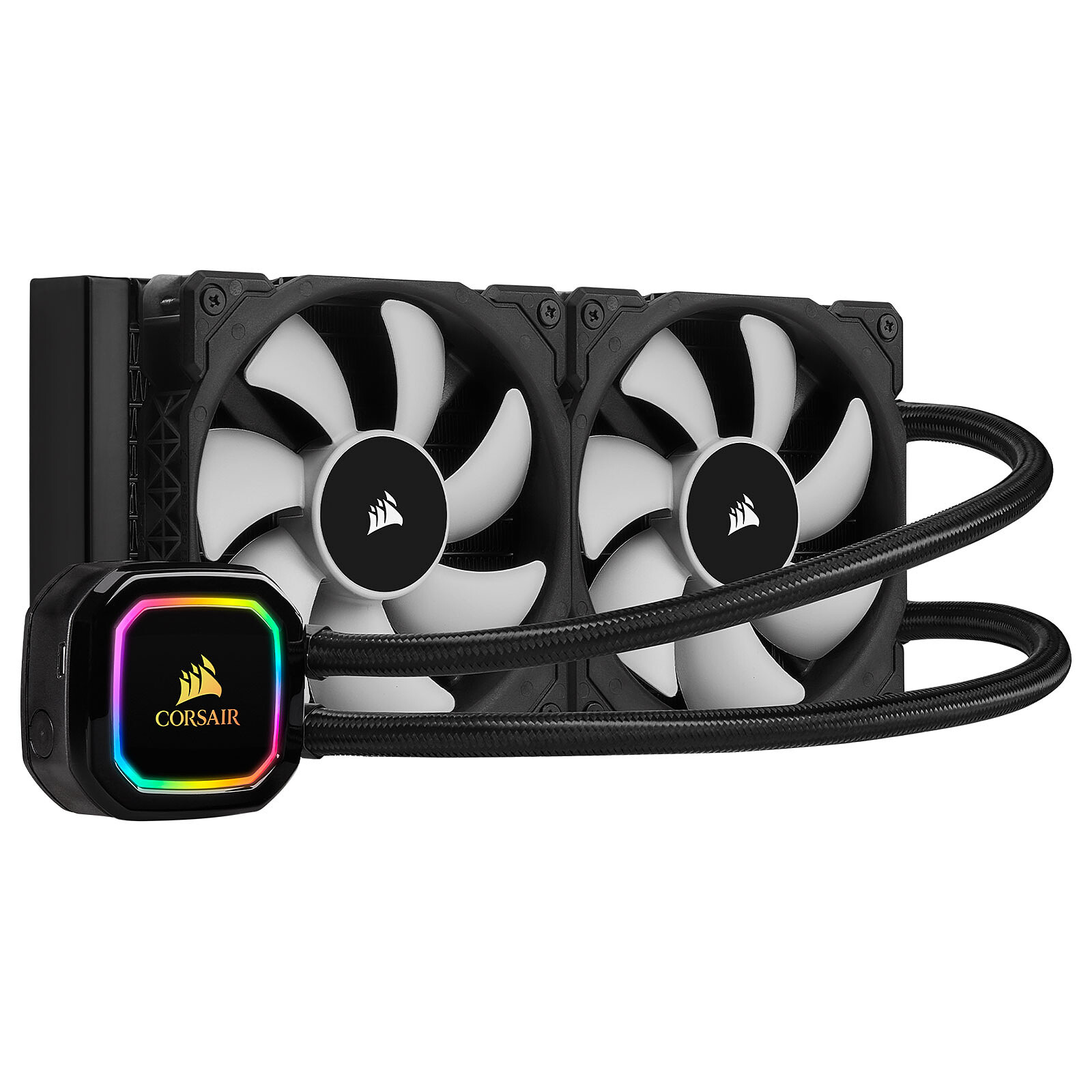 Corsair's iCue H100i RGB PRO XT liquid CPU cooler is a complete kit that's especially good for cases with 240mm radiator mounts. The 240mm radiator and two ML120 fans will provide the best possible cooling for your overclocked CPU and gaming setup. With the iCue control software, you can customize the RGB lighting of your cooling system as well as monitor the temperature and adjust the cooling performance directly from your PC.
The secret to fast and efficient cooling is to maximise the cooling surface area. If your PC case has 120mm fan mounts spaced for a 240mm radiator, the iCue H100i RGB PRO XT watercooling allows you to take full advantage of your case's cooling potential.
EFFICIENT COOLING WITH ML120 PWM FANS
MSI MAG B550M MORTAR WIFI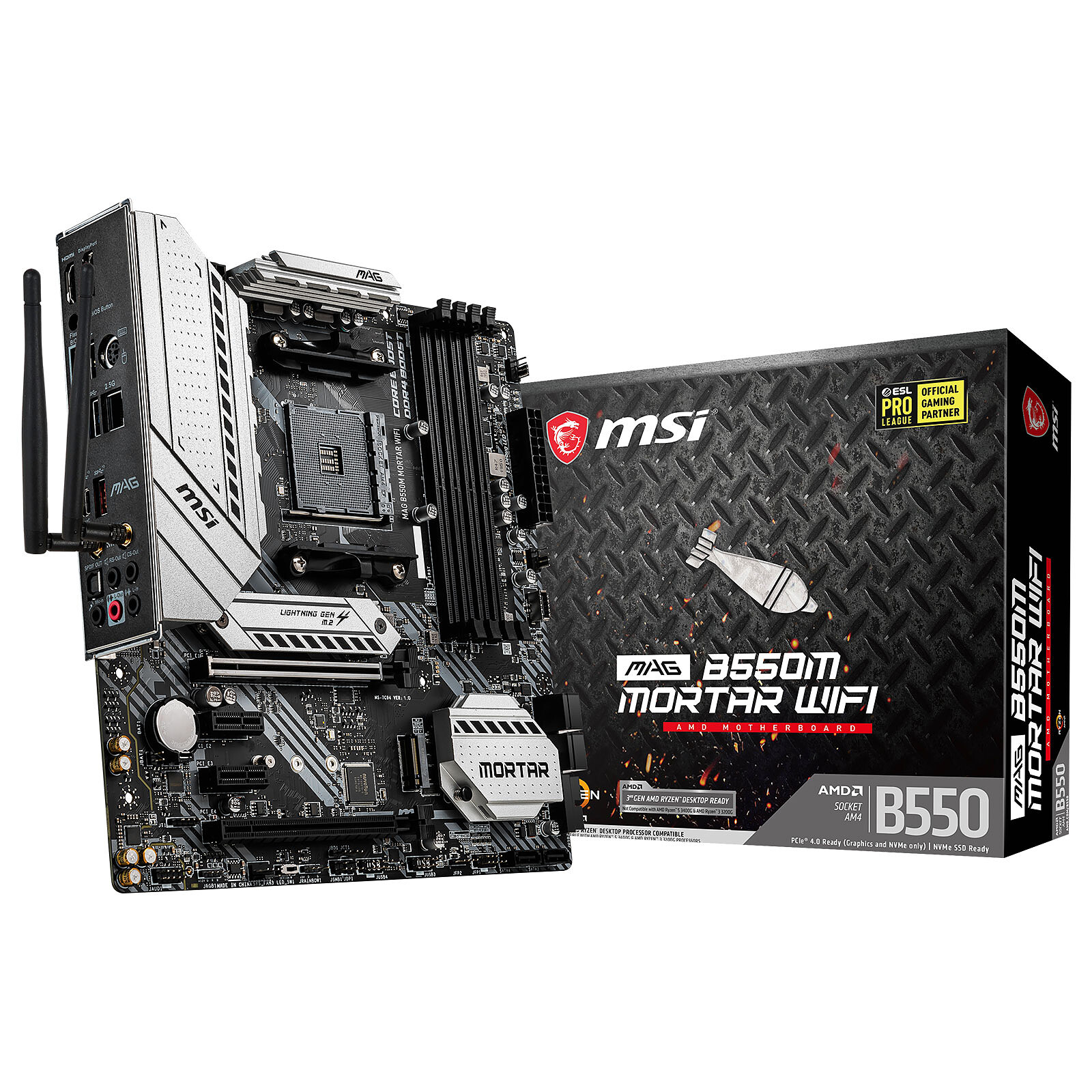 The MSI MAG B550M MORTAR WIFI motherboard with its AM4 socket is designed to accommodate 3rd generation AMD Ryzen processors. It will allow you to compose a configuration Gaming It will allow you to build a configuration with the latest technological advances: PCI-Express 4.0 for graphics cards and M.2 SSDs, management of 128 GB of DDR4 RAM. It's all there for an exhilarating gaming experience, it's up to you!
THE ADVANTAGES OF THE MSI MAG B550M MORTAR WIFI :
AMD AM4 socket for AMD Ryzen 3rd generationprocessor
4 Dual-Channel DDR4 4400+ MHz (OC) memory slots
1 x M.2 PCIe 4.0 x4 / SATA 6 Gbit/s + 1 x M.2 PCIe 3.0 x4 with Frozr heatsink
1 x PCI-Express 4.0 16x + 1 x PCIe 3.0 16x (4x) with AMD CrossFireX Multi-GPU support
USB 3.1 ports including Type-C
2.5 GbE LAN + 6 AX Wi-Fi + Bluetooth 5.1
Mystic Light
Pre-installed I/O Shield
More Information
https://www.msi.com/Motherboard/MAG-B550M-MORTAR-WIFI
Corsair CV750 80PLUS Bronze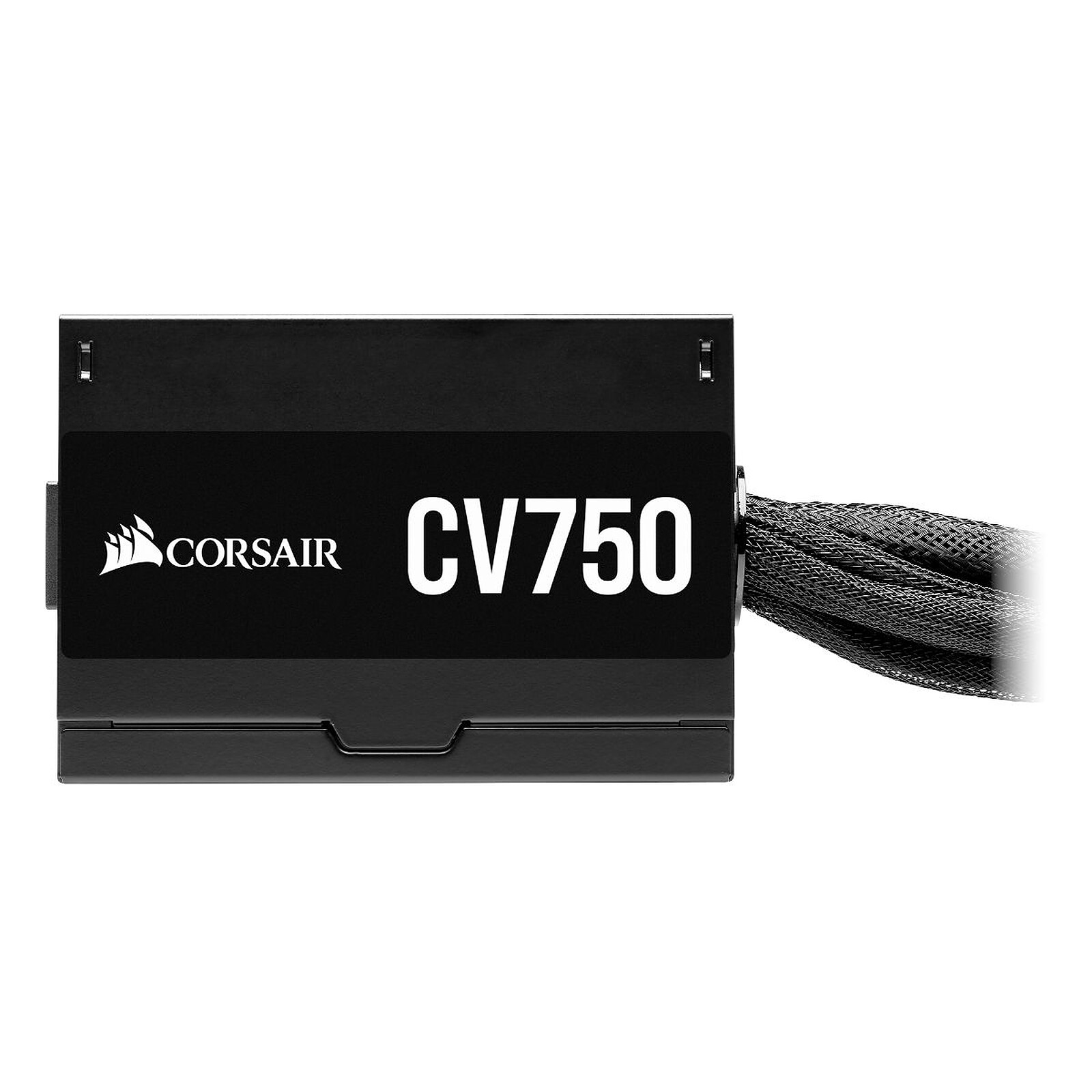 The Corsair CV750 80PLUS Bronze power supply features black-wrapped cabling to blend seamlessly into your case. The Corsair CV Series power supplies are ideal for your new computer because their 80 PLUS Bronze certification ensures that they always provide the power your system needs.
The CV series power supplies feature a 120mm thermo-regulated fan that ensures your system is quietly cooled, while its compact size easily fits into almost any modern PC case with a length of only 125mm.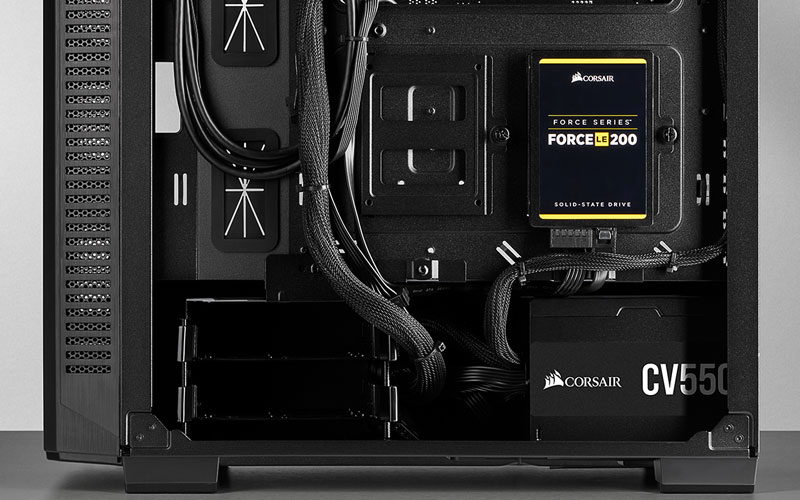 The CORSAIR Crystal Series 280X RGB is a high-performance Micro-ATX case with three beautiful tempered glass panels, iCUE software-controlled RGB lighting and an innovative dual-chamber internal layout for clean looks and cleaner builds.
MASSIVE COOLING, SMALL CASE
Room for up to six 120mm cooling fans, or a 240mm radiator in the roof, 240mm radiator in the front, and 240mm radiator in the floor.
DUAL-CHAMBER INTERNAL LAYOUT
If you want to go faster, the Corsair Force MP510 V2 M.2 NVMe 1.3 SSD is the drive for you. Ultra-fast and reliable, it will significantly boost the performance of NVMe 1.3-enabled computers and laptops. The Corsair Force MP510 V2 480GB delivers speeds of up to 3480MB/s read and 2000MB/s sequential write.
The MP510 V2 's all-new high-performance data controller delivers up to 3,480 MB/s sequential reads and up to 3,000 MB/s sequential writes for ultra-fast read, write and response times (performance varies by model and capacity). The M.2 NVMe 1.3 PCI-Express 3.0 4x interface provides simple connection and maximum bandwidth.